This is the fourth part (I, II, III, IV, V) of our series asking the question "Who were the Romans?" and contrasting the answer we get from the historical evidence with the pop-cultural image of the Romans as a culturally and ethnically homogeneous society typically represented with homogeneously white British actors speaking the 'Queen's Latin' with a pronounced insular accent.
Last week, we extended our time frame from the Republic to the Empire, looking at the ways in which first Italian and then provincial elites were brought into the Roman elite (both literary and political). We saw that while these elites forcefully adopted a Roman identity, they also kept hold of their own original identities, layering the identities on top of each other and thus being both Roman and provincial or both Roman and Italian. Pointedly, we focused on the period up to around 180 AD, the long stretch of Rome's maximum power, wealth and territorial extent, showing that trying to connect the increasing diversity of the imperial elite to 'decline' makes a catastrophic, century-sized error in chronology.
This week we're going to shift our focus away from the senatorial elite in Rome (though we will still in many cases be dealing with elites because that is whose likely to have had their appearance recorded) and move out of the city of Rome, in order to answer the question that I have already been accused of 'dodging:' 'what color were the Romans?' As we'll see in just a moment, that question is founded on some flawed assumptions, but exploring the very literal meaning of that question can serve as another way of charting kinds of diversity within the Roman world. Were there certain ways for a person to 'look' Roman? We have already addressed religious, linguistic and cultural variety within the Roman world and indeed within the Roman citizen body, but if one looked down the street of a Roman town are we likely to see a relatively homogeneous group of people – similar hair, skin and eye color, height, etc. – or a wide range?
What color were the Romans? As we're going to see, the answer is most of them.
But first, as always, if you like what you are reading here, please share it; if you really like it, you can support me on Patreon. And if you want updates whenever a new post appears, you can click below for email updates or follow me on twitter (@BretDevereaux) for updates as to new posts as well as my occasional ancient history, foreign policy or military history musings.
(Note: This is going to be an image-heavy post, particularly with a lot of Roman artwork. Some of that artwork, as ancient artwork is want, shows men and women in varying states of undress. I have not used any artwork that shows explicit sex acts (though I do note the existence of such), but there is some nudity.)
Rome in Color
Now, as I go through all of this discussion on ethnicity in the Roman world, I know there is someone – perhaps many someones – insisting that all of these different groups in Italy at least aren't really different because they are 'white' or alternately insisting that what I am doing is dodging the question of skin color (by, one assumes, cowardly hiding behind the evidence that it mattered less to the Romans than other distinctions). First off, I want to note that I think this argument begins from a mistaken premise: it is assuming that the divisions we impose today on our culture are fundamentally true in all times and cultures and so we can impose them on people in the past who may have viewed other categories as more meaningful. This is an error, as it ought to surprise no one that social construction is socially constructed (shocking, I know) and so the organization of a society (including questions of 'who belongs' and social hierarchy) depends on human perception about what is and is not important. Consequently, there is no one system of social hierarchy because each society will view the matter differently. Frankly, in many cases, the view that our categories can be cleanly retrojected into the past clearly comes from the assumption of Big, Important biological differences that would somehow make groups today considered 'white' more compatible even in the deep past when they themselves defined their groups very differently (or, to put it another way, the emphasis on 'were the Romans white?' accepts unscientific, garbage-nonsense racial categories as fundamentally true in a way that they simply aren't; the easy Roman integration of North Africa compared to the difficulties of Roman Britain and Germany ought to be fatal to this view in any event).
This is not to say that the ancients were unaware that people came in different colors. One striking example is Asclepiades of Samos' poem (c. 270 BC or so) praising the beauty of a black woman named Didyme:
Didyme has captured me with her eyes,
Alas! And I melt like wax before a flame
When I behold her beauty.
And if she's black, so what?
Coals are too, and yet when we heat them
They glow like rose petals
(Trans. Larry Bean from Sententiae Antiquae, which also features the original text and a discussion)
It is worth taking a brief aside that even in the early third century BC, εἰ δὲ μέλαινα ('and if she's black…') was a line that could be put in a poem without a whole lot of other context. The reader is assumed to have no problem creating a mental image of a woman both κάλη ('beautiful') and μέλαινα ('black'), a good reminder that Africans (including those with darker skin) were not new to the Mediterranean but rather a regular sight in the towns and markets of the ancient Mediterranean. After all, the Mediterranean borders Africa on one side and was in essence not a barrier but a great highway knitting together far distant communities in networks of trade, discourse and warfare.
Likewise, even a brief reading of the ethnographically oriented authors in the Greek and Roman literary traditions shows an awareness of different skin colors, though it also shows that such authors were far more interested in customs and religion than skin color (this isn't the place to lay out all of the examples, but Race and Ethnicity in the Classical World: An Anthology of Primary Sources in Translation, eds. R.F. Kennedy, C. S. Roy and M.L. Goldman (2013) has a fairly wide and representative sample; you will find quite a lot of descriptions – some more than a little fanciful or absurd – of clothing, marriage rituals and burial practices, but only very rarely a comment on the color of the people). They also considered significant chunks of Africa and Asia, at least as far as India to be as much part of their 'inhabited world' as Europe (ironically it was Britain – again – which, being on the wrong side of Okeanos, was conceptually the furthest away in at least some Greek and Roman geographic conceptions).
And therein lies a key point. As we've already seen, the Romans found other cultural signifiers – language, citizenship, social organization – more important than skin-color in understanding 'who someone was.' Ethnicity – the 'stock' or people one's ancestors came from – might matter (both positively and negatively), but skin-color was at most ancillary to that (recall that in all of the Roman bigotry from last week, we saw several references to clothing, accusations of greed, deceptiveness, debauchery, attacks on religious customs, but only one passing reference to color). Again, this should not be mistaken for modern tolerance! The Romans could be – as we've seen – very bigoted towards other peoples and cultures, but people were far more likely to be described through religion, language, culture or clothing – the Romans were, after all the 'people of the toga' (gens togata, e.g. Vergil, Aeneid 1.282, Martial 14.124) – than by the color of their skin. Indeed, clothing in particular was a potent marker of Romanness and readers from last week may recall that it was the trousers – not the skin – of the Gauls to which the Romans objected when Caesar introduced some into the Senate (Suet. Caes. 76.2, 80.2). Such 'uniforms of citizenship' matter a great deal, as we'll see in a moment.
Consequently, I have to note that as a historian, we ought to take ethnic classifications from the time and place when considering ethnic groups, rather than striving to impose our equally arbitrary classifications. And so that is what I have endeavored to do so far, focusing on the ethnic, linguistic and religious distinctions that mattered to the Romans in the three previous posts in this series. But we all know there is a certain sort of reader who won't accept any of this if we don't discuss skin color. So we are going to discuss skin color, though I should note this isn't quite the same thing as discussing race. The question "were the Romans white?" is one of those 'not even wrong' questions because white/non-white was simply not a distinction that very much mattered to the Romans, who, after all tended to view many supposedly 'white' people as more distant or foreign to them (e.g. Gauls, Britons, Germans) than many people who would be regarded today as 'non-white' (North Africans being the most obvious example). The thing is, while skin-tone is a real physical, biological thing, racial categories are 'socially constructed' (read: made up by people and not fundamentally rooted in the natural world) and different cultures and different times define them differently. Famously, some groups seen as obviously, clearly 'white' today were excluded from narrower definitions even relatively recently in the United States. And so the question 'what race were the Romans' is fundamentally flawed because it relies on importing a set of racial categories that the Romans didn't use.
But because this is a question people have, we're going to answer it and so discuss skin color in the Roman Empire, with a particular focus on Roman citizens because, as we've discussed, that legal status tended to be by far the most important signifier of if one was a Roman or not. Though ironically, as we're going to see, we're going to use all sorts of means to tease out Roman citizens, from the towns they live (which have citizen status) to the clothing they wear, to the social strata they are in, to whether or not they happen to be emperor, all of which will serve infinitely better in telling us who is a Roman and who isn't than skin color.
Pictures in Pompeii
So, all of that preamble out of the way, we get to the question at hand: what color were the Romans?
Most of them. They were most of them. Indeed, surprisingly close to all of them.
This is actually one of those questions where we need not guess. We can get a sense of this by looking, for instance, at Roman frescos, quite a few of which survive. Fresco (technically buon fresco, the form of fresco the Romans paint) is a style of wall painting where the pigment is applied on still-wet plaster, so that the pigment mixes with the water in the plaster and when that water dries the pigment isn't merely on the plaster but in the plaster. Consequently frescos which end up buried can have their colors very well preserved and (as we'll see) fresco painters can recreate a wide range of skin-tones very accurately. Consequently, and I want to stress this, the 'what color were the Romans' isn't a question where we need to guess; we know They very literally painted us a picture.
Naturally, the range of skin-tones we might see in fresco is going to vary by place so I wanted to start us off as near to Rome as we could get while still having a good broad sample range to work with. That means we're going to focus on artwork from Pompeii, a town in Campania, south of Rome, which had a whole chunk of Sulla's veterans (Roman citizens all) settled on it in the 80s. Consequently, in terms of population make-up, Pompeii actually makes a pretty solid stand-in for Italy writ large and we can be sure that essentially all of the free persons in Pompeii – certainly the sort wealthy enough to be commissioning large frescos – are Roman citizens, so this is all at least art for citizens. Pompeii also gives us a really strong terminus ante quem (the last possible date a thing can be) because Mount Vesuvius utterly annihilated the town and buried it under literal tons of ash and soot in 79 AD. That's also handy for what we're doing: there can be no accusation that these images reflect only the later more thoroughly blended Roman Empire because all of them were produced no later than the first century (many are older). All of that actually makes Pompeii a fairly effective stand-in for Roman Italy's skin-tone range as distinct from the (wider) range of the entire empire, which is in turn valuable because Pompeii's evidence base is so robust as a result of the circumstances of the city's aforementioned destruction-by-Vulcan. So to repeat, for this section all of these images are from Roman Italy, no later than 79 AD.
All of that said, Picture Time With Dr. Devereaux!
One thing you may immediately note is that the women in these scenes are consistently lighter skinned than the men. That's not an accident; fair skin in women particularly was part of the Roman beauty ideal (as it had been for the Greeks). Elite, upper-class women weren't supposed to be tan from being out in the sun and they also used white makeups to make them appear paler (including white lead, what would later be called Venetuain ceruse, which was about as healthy as the phrase 'powdered lead-based cosmetic' makes you think it is). Of course this does not mean that all of the fair skin color up there is nonsense; it is clear there were very fair-skinned Romans (there are some fair-skinned men in there too!), but that there were also very tan and olive skinned Romans (and as we'll see in a moment, also black and brown Romans). But the impact of beauty standards here means that I suspect we ought to take the male skin-tones from fresco as a closer indicator of the natural skin color of people in first century Roman Italy. Chances are there were just as many tan and olive skinned Roman women but that, because of those beauty standards, they tended not to be depicted that way in artwork (or tended to be of the sort of social class that didn't get depicted in artwork).
I have tried here to be representative of the sampling though I have also tried to keep the images mostly family friendly. There is also a large corpus of very sexually explicit fresco from Pompeii which I would note, if anything, shift the balance of skin-tones, particularly male skin tones (for the reasons just discussed), somewhat darker than the sample here (a lot more men with fairly deep olive skin, though women remain very fair skinned). But we can see pretty much the full Mediterranean skin-color range here, from very fair skin (especially among women) to fairly deep browns. Going by the Fitzpatrick scale, a standard six-grade classification of human skin color, we look to have at least one clear example of nearly every point on the range of light-to-dark human skin tone. In fact, let's take the actual Fitzpatrick scale (diagram via Wikipedia) and contrast it with 'swatches' of skin-color from these frescos so we can see that.
And I want to be clear here, if anything, Pompeii should be a relatively more homogeneous, insular sort of town. It isn't the vast world-port of Rome or Carthage and because of Sulla's veteran settlement its population would have consisted substantially of individuals whose families had Roman citizenship before the Social War. Moreover, because Pompeii stops existing courtesy of the local volcano quite suddenly in 79 AD, we know we're not viewing the more blended Roman world of the high and late empires, but rather a decidedly Italian-Roman milieu.
And yet, even before we go into the provinces (which we will in just a moment), the skin-tone range in Roman Italy is already very wide, even in the two first centuries. And that should be no surprise, this is a Mediterranean culture which has been in trade and cultural contact with the rest of the Mediterranean, including Egypt and North Africa for centuries. It should also, of course, be no surprise to anyone who has been to Italy (or really anywhere on the Mediterranean littoral) and seen the relatively wide range of human pigmentation there now. The color range difference between Mediterranean Europe and Mediterranean Africa has never been particularly vast because these communities have been in contact with each other since at least the beginning of the iron age, if not earlier. The Mediterranean is not a wall; it is a highway and has been since antiquity. Instead the idea that there was some firm separation, that Italians were clearly 'white' in a way that, say, North Africans clearly wouldn't have been is an assumption based on the Atlantic world of the early modern period, not the Mediterranean world of antiquity.
The problem with trying to import those modern categories is that the categories themselves – 'white' and 'non-white' – are artificial and only make sense in the context of the social structures that created them. In the Roman milieu the nonsense of that rigid categorization (and the great weight placed upon it) is revealed quite clearly by (as we're going to see) fairly significant zones of overlap in terms of skin coloration. And that is before we even get outside of Italy…
Faces from the Faiyum (and elsewhere)
Unsurprisingly, the wide range of appearances we get for Roman citizens increases if we look more broadly at citizens in the empire outside of Italy. As in Italy, preservation makes the effort difficult. The artwork most frequently preserved are sculptures. But while we know that Roman sculptures were painted, often in very bold colors, that paint often doesn't survive and can't necessarily be confidently reconstructed. Paintings on perishable materials hardly ever survive (recall that we have a volcano to thank for the finely preserved frescos above). One exception to this preservation problem is Egypt: the hard dry climate enables the survival of all sorts of things that simply wouldn't survive anywhere else. One such category of artwork are mummy portraits.
Mummy portraits were an Egyptian custom where a portrait of the deceased person being buried was painted on a rectangular board or panel, typically made of wood and placed in the tomb with the body. The practice itself represents an interesting cultural fusion on its own: a blending of Greek and Roman artwork styles with Egyptian burial practices. Beginning in the late first century BC the painting of these portraits runs into the third century AD (a handy date range for our purposes as it begins at the same time as Roman rule). The figures shown are mostly local elites – commissioning an artist for this kind of thing required at least some money, after all – though the wide variation in quality suggests that at least a fairly broad range of the elite engaged in this practice, not merely the very richest individuals. Let's take one of these portraits and look at a few of the elements of it:
We have what looks to be a man, perhaps in middle age. A few things are notable. First, he wears a white toga (the standard formal Roman folded cloth garment, draped from the left shoulder) and a white tunic with a purple stripe (two, in fact, the other is concealed beneath the toga). When I show my students this picture, I joke that the man might as well have worn his, "I AM A ROMAN CITIZEN" t-shirt; the impact of the clothing here is similarly blunt. While a fellow might wear a toga in a variety of colors for fashion's sake, this solid-white toga is the toga virilis: the distinctive formal dress of a Roman citizen. Meanwhile, that purple stripe on his tunic is the angustus clavus (or angusticlavius, literally 'the narrow stripe'). That too was a bit of clothing reserved as a marker of status – whereas the toga virilis says "I am a Roman citizen" the angusticlavius says "I am of the equestrian order" (nothing to do directly with horses by this point, it merely indicates wealth and that the individual isn't involved in politics in Rome). In short then, this man – or more correctly, his surviving family who commissioned the portrait – is telling us, in no uncertain terms, "I was a wealthy Roman citizen." I want to stress that point: there was no real distinctive national appearance that indicated a Roman – no particularly Roman hair color or what have you – but there was a distinctive dress that indicated citizenship, which only citizens were entitled to wear and which was so important the Romans went so far as to call themselves the gens togata ('the people of the toga').
But of course we can see other things about him. His hair-style isn't really typical of fashion in Roman Italy. And of course he has that star-diadem, under which he's arranged three locks of his hair; that is meant to tell the viewer something too. In this case, it is meant to tell us that this man is associated with the cult of Serapis, probably a priest. Serapis emerged as a distinctively Graeco-Egyptian fusion deity in Egypt in the third century, promoted by the Ptolemaic dynasty in an effort forge some common ground in their kingdom between Greek and Egyptian subjects. Serapis was worshiped as an aspect of Osiris (merged with the bull Apis). This is, to put it mildly, not a Roman god (though the worship of Serapis spread through the Roman Empire from Egypt, though it doesn't seem to have lost its Egyptian connotations). So our fellow is also telling us, just as clearly, "I was an important practitioner of an Egyptian religion" – keeping in mind that this fellow lived in Egypt. This is a good example of identities layering rather than obliterating each other – visually the artist and the deceased's family have chosen to convey both that this man was Roman and that he was Egyptian (or at least Graeco-Egyptian).
But of course that fact about clothing is really very handy for us if we want images from the provinces in color where we can know with a high degree of certainty that the subjects are Roman citizens, since anyone wearing either the toga virilis or a tunic with that clavus is declaring their citizenship (in a way that would get them in rather a lot of trouble if they were lying!). And it turns out there are around 900 of these mummy portraits from all over Egypt. So what do our Romans in Egypt look like? Well…
If your mental image of 'Romans' for the Roman Empire doesn't include these six fine gentlemen, update your priors! But it is also worth noting the variety we have here, even though all six of these portraits are from one province in the Roman Empire (Egypt). We have a range of skin-tones, from fairly light olive to deep browns and also a range of hair, from straight to curly to very tight curls. But all of these fellows have one thing in common which is that their dress marks them out as Romans – something they very much wanted you to know.
Now, mummy portraits weren't only for men but assessing the status of women in these portraits is tricky. Women's tunics could also sport clavi and in a wider range of colors, but these patterns didn't have the same clear "I am a citizen" message as the man's white tunic with purple clavi with toga virilis and so it can be hard to gauge citizenship status simply from a woman's clothing. That said, the style was a Roman fashion not an Egyptian one (to my knowledge) so at the very least we may say (and indeed, others have said) that the women of many of the mummy portraits from the Roman period in Egypt are wearing Roman-style dress, although often with local touches. Some examples:
Again, we can see here a wide range of skin colors, from the fashionably (for the Romans) fair-skinned (top center, bottom left) to darker (and probably truer to life in many cases) skin tones. These are upper-class ladies and so their portraits show a conscious effort to display wealth (like the expensive perfume bottle that the woman in the bottom right caries, or the heavy use of purple-dyed cloth) and also their fashion sense, which mirrors the fashions of the Italian Roman elite quite heavily. Again, we can't know these women's status from looking at their clothing (besides that they are clearly fairly wealthy elites) but the fact that clear displays of citizen status are so common among the men buried in the same condition – men of the same social milieu who may well be these women's fathers, brothers, sons or husbands – strongly suggests that most of these are provincial citizen women. At the very least we may say for certain that they are all interacting quite a lot with the broader Roman world and its trends.
Moving out of Egypt our evidence thins greatly, but there are still some things we can say. We have evidence of citizen communities in Gaul from a very early point (you will remember Claudius talking about them last week) and it should take relatively little convincing to imagine that Roman citizens native to Gaul (=France) or Britain were likely on the fairer end of the skin color spectrum as what we see here, even if we don't have a lot of surviving artwork from the region to tell us that. Of course that doesn't mean that all of the residents of Rome's northern provinces were fair-skinned locals either. A Roman woman, whose skeleton and grave goods were found buried in York, England (nicknamed the 'Ivory Bangle Lady' after her bracelets) appears to have been of North African extraction, though isotope analysis suggests she spent her childhood in Britain. There is some debate on the validity of the analysis that marks her as North African, but there's no reason to be skeptical about Africans in Roman Britain; the Historia Augusta (SHA Sept. 22.4-5) notes one such – an Aethiops e numero militari at the end of the reign of Septimius Severus (r. 193-211). You'll see that phrase translated as 'an Ethopian soldier" but aethiops was equally a generic way in Latin to refer to someone as being black, regardless of where they came from. Now the Historia Augusta is often quite unreliable as a source, but the point here isn't the truthfulness of the particular episode, but the fact that a black Roman soldier serving in Roman Britain was, to the author of the Historia Augusta, a perfectly reasonable thing to posit. And of course the same would be true of Roman soldiers from Gaul, Spain, Italy or Britain serving in Africa or the East. We'll talk more about the Roman army's role in all of this next week, but in brief it functioned to move individuals all around the empire as units were transferred from this or that frontier.
But back to our portraits: all of these people were Romans; that part of their identity was probably never seriously in doubt. Many of them had likely been Romans for generations. Indeed, we should observe the profundity of what these people and their families (since it was the families that would have commissioned the portrait as one generally cannot commission artists while dead), reaching through time to convey the essentials of themselves chose to show us. A great many of them, it seems, put a great deal of effort into communicating to the future that proudest of boasts, Romanus civis fui – 'I was a Roman citizen.'
It must have been very important to them to say it.
The Color of Purple
And yet this wide range of skin color is rarely captured by the popular imagination or absorbed by the public, often because it simply does not appear in the materials produced for them. We've beaten up a fair bit here on HBO's Rome (lest anyone think I am bashing for bash's sake, I will say I actually like HBO's Rome quite a bit), but it is hardly alone. For another example take the recent project by Daniel Voshart to visual with modern software the faces of the Roman emperors. This project – which I will say, I think is quite good though we are about to point out some flaws – was feted everywhere and shot all around the internet: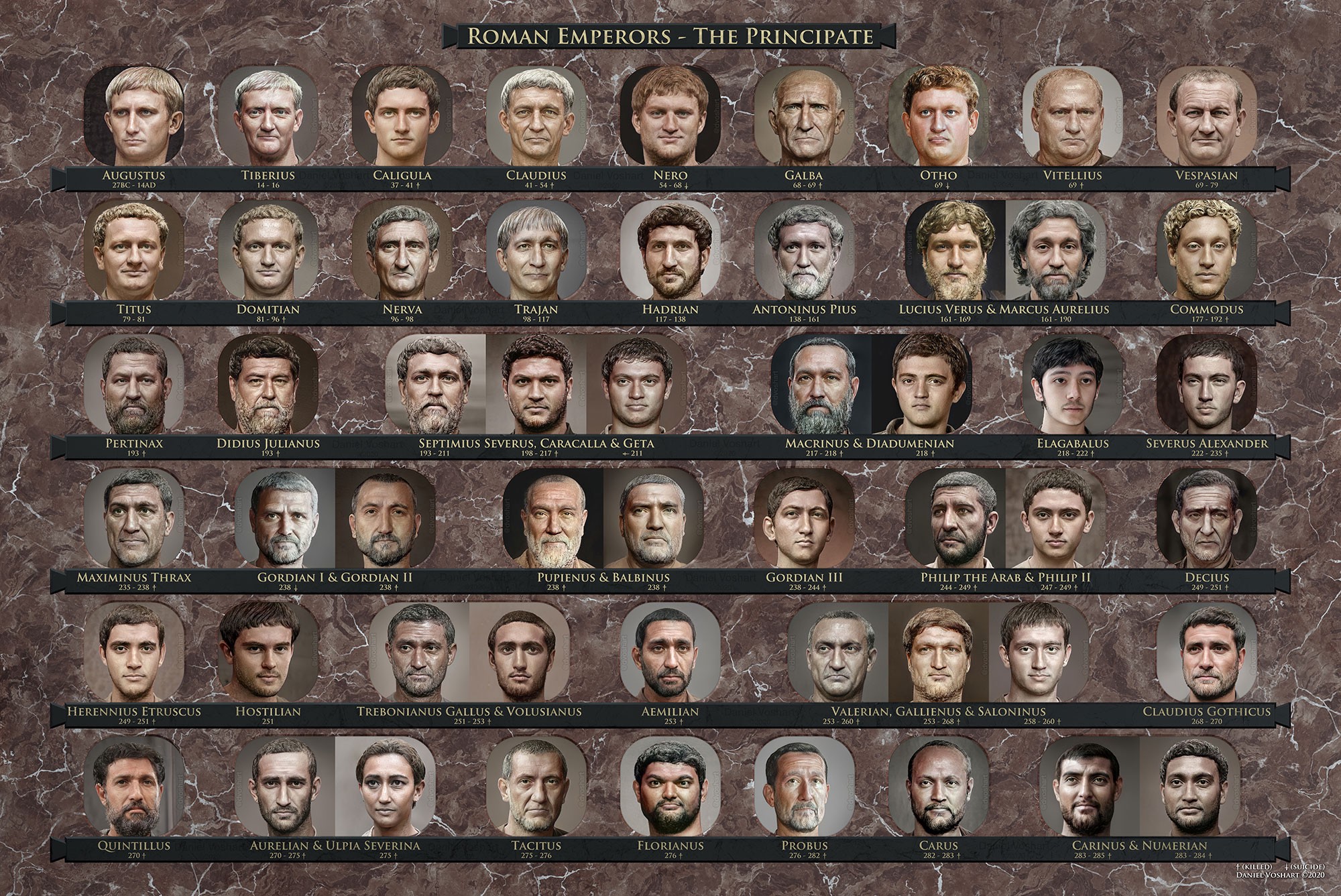 And I do mean everywhere. Here it is at The Verge. And Smithsonian Magazine (mercifully using the 2.0 versions of the portraits). And Popular Mechanics. And also a 30 minute Youtube video by the World History Encyclopedia (which, by the by, is not a good or reliable website, despite its popularity with students; Wikipedia is honestly better. Pointing out some of the serious errors in their articles could be a blog of its own for there are many). And it was all over social media. Which is a real issue because the original set of portraits were so badly flawed they had to be reissued and even then I think there are serious problems in how the skin color of these emperors is reconstructed.
And I want to note at the outset that I am also not here to bury this chart nor its creator. This was not a fundamentally flawed project and I don't mean to imply that it is, merely that the sort of errors it fell into (particularly in its 1.0 version) speak to the pervasiveness of the problem we have been talking about. Because this chart assumes unless otherwise indicated (and sometimes even when otherwise indicated) that Roman emperors were essentially white – and very white in most cases – as its baseline assumption. Now, to his credit, Daniel Voshart reissued the chart after getting some criticism of some of the portraits which darkened some of the skin colors used, though the treatment was applied only to specific emperors, not generally, whereas I might have suggested that systemic errors require systemic solutions. Moreover, and Voshart can hardly be faulted for this, the reissued chart made much less of a splash and spread over the internet quite a bit less than the original, making this an instance where Voshart is both innocent victim of the 'whitening' of Rome in the popular culture and an accidental purveyor of the same. To be clear, I am not faulting Voshart; it seems to me a rather difficult and big thing to admit the mistake and change the chart and I respect the honesty to do that openly. He seems to be doing his best and nothing is perfect on the first run. But I do want to interrogate the mistakes that led to the first problem chart, some of which remain in the re-issue:
I think we can see a trend in the thinking here with the very first portrait, of Augustus blown up a bit from the chart:
Now, what do we know about how Augustus looked? Well, we have a lot of sculpture, and Voshart has done an excellent job with his software in capturing the structure of the face we see in statues of Augustus. One thing I was made to learn as part of my MA was the ability to recognize the first 18 or so emperors on sight (a thing you can do if you know Roman imperial sculpture well enough) and, absolutely, that's Augustus. But of course those sculptures are in marble and while they would have been painted originally, that paint is now gone, so how do we interpolate the color of Augustus' skin or hair or eyes? Well, good news, Suetonius essentially tells us (Suet. Aug. 79; Voshart has this citation wrong in his notes due to an error in the English transcription on Perseus, for which he can hardly be faulted though I assume this error is indicative of Voshart's lack of familiarity with the Latin which is about to matter) that Augustus hair was leviter inflexum et subflavum (lightly curly and dirty-blond) and his skin was colorem inter aquilum candidumque ("colored between dark and bright," by which we should probably understand 'tan'). But somehow dirty-blond and tan became, as above, very blond and quite fair; this particular portrait is almost entirely unchanged in the reissue (the hair is a little darker). That Augustus is colored pretty close to Simon Woods' portrayal of Octavian in HBO's Rome (below), except that Simon Woods is an English actor and Octavian was…you know…Italian? And apparently at least a little brown by Italian/Roman standards!
(Language note: this is a case where I think familiarity with Latin matters, because color words are always finicky. The Romans have a word for 'blonde' or 'golden haired' and it is flavum, so if hair is subflavum is isn't blonde, it's quasi-blonde, almost-blond but dirty-blond is, well, at least a fair bit brown; the reconstruction is really very blond. Meanwhile his skin is between aquilum ('dark') and candidum ('white') according to Suetonius. Candidus here is easy – that's very white, like chalk or paper; here as a skin-tone, I think Fitzpatrick I or II. How dark is aquilum? That's more difficult, aquilum is a rare word but here we have the grammarians to the rescue, particularly Sextus Pompeius Festus (1.1) who notes "Aquilius is a color tawny and almost-black" (aquilus color est fuscus et subniger; Latin niger for 'black' has exactly the English cognates you think it does); aquilum is probably around a V on the Fitzpatrick scale. So Augustus' skin is somewhere in the middle between 'very fair' (candidum) and almost-black (aquilum). Probably that's something like a III or IV on the Fitzpatrick scale, but here we've got, generously, a II, almost I. That's simply not what Suetonius' Latin says.)
The more obvious initial problem was with the version 1.0 of the Severans. That was easily what drew the most immediate criticism because we have surviving artwork in color of Septimius Severus, here juxtaposed with Voshart's version 1.0 and version 2.0 depictions of him:
Again, good on Voshart for constructively responding to criticism, but also it isn't hard to see the problems between the frankly pale original reconstruction and the red-brown contemporary portrait (which is, to be clear, not obscure; it is a famous piece of artwork and on Wikipedia). Even the reconstructed version doesn't quite catch the hue of the artwork which I think implies something closer to a Fitzpatrick V than what we have, which is perhaps a III or maybe a IV. And that dark skin makes a lot of sense! Septimius Severus was born in Leptis Magna in what is today Libya; his father at least seems to have been of Punic extraction and so may have been living (and marrying) in North Africa for centuries; his mother was from an Italian family, but it isn't clear how long they'd been settled in North Africa.
How does a glaring error like that get made for an emperor for whom we have a contemporary color-painting? I should note that I hardly think the two emperors I've focused on here are the only reconstructions which have problems. Just looking at where the skin color of Roman era Italian artwork clusters suggests to me that nearly all of the Italian-born emperors probably ought to be rather more tan. The problem here then is that the reconstructions systematically whitened the emperors (through, I suspect, an error in the software used which was probably 'trained' primarily on very fair skinned faces). How does that happen and more importantly how does it go so easily unnoticed both by the creator but also by so many of the early evangelists for the project? The answer, of course, is what we've been talking about all along: the Queen's Latin – the built in assumption that the Romans, or at least elite Romans, were mostly 'white' and looked at lot (and sounded a lot) like not just Europeans, but north-western Europeans. It is why the notion of a Roman Emperor who was not only African, but also at least brown if not black strikes most people as absurd, but of course it's true. It's not Septimius Severus who was absurd, it is the Queen's Latin and the vision of Rome it promotes.
(Also, while we're here, to keep noting the Roman trend in artwork towards lightening the skin of women, Septimius' wife, Julia Domna, pictured above was a native of Syria, probably of Arab extraction and so while I cannot be sure, we may suspect that she was not generally so pale. The choice of skin tone may either be the artist trying to be flattering or it may reflect Julia wearing fashionable skin-lightening cosmetics, well attested in ancient sources as something fairly common. Nevertheless, it turns out unrealistic beauty standards are not merely a product of modern mass culture.)
Septimius Severus was, by the by, hardly the only emperor to hail from outside of Italy, although we have to be careful because some emperors with 'provincial' origins may have come from Roman colonies in the provinces (and thus be perhaps only a generation or two removed from the Italian elite). Nevertheless, we know that Trajan was born in Spain (though perhaps descended from Italian colonists; how much intermarrying there would have been there is unclear) as was Hadrian. Didius Julianus, briefly emperor, was born in Cisalpine Gaul (by that time part of Italy); his heritage on his father's side was Gallic, from the Insubri, while his mother was from Hadrumentum, an old Phoenician colony in North Africa (SHA, Didius 1.2); he was a senior senator before briefly being emperor. Septimius was African, as noted, so Geta and Caracalla, his children, were mixed African-and-Syrian in ancestry; Elagabalus, his nephew was of Syrian origin, same as Julia Domna, as was Severus Alexander. Maximinus Thrax was…well, a Romanized Thracian as his name suggests; we needn't believe the predictable slander in our sources (chiefly the Historia Augusta and Herodian) that brand him as a 'barbarian,' but he clearly was from Thrace. The Gordiani (there are three of them) seem to have been perhaps Anatolian in origin, being granted citizenship perhaps by Mark Antony, though by the third century that origin may have felt quite distant. Philip the Arab was…well, a Romanized Arab; sometimes this stuff is easy. And so on and so forth; Diocletian was Dalmatian, Constantine was Illyrian through his father and perhaps Bithynian through his mother.
It should be no particular surprise that Roman emperors from outside of Italy begin first slowly – with Spain and North Africa represented first – and then accelerate, particularly after the Constitutio Antoniniana expanded citizenship to all free persons in the empire in 212. That's precisely the same pattern as we saw with senators and literary elites, as the Roman upper-crust slowly expanded to encompass a wider range of Romans, both new and old. But that expansion is important for us because it goes right to the question of who was a Roman – by the 190s, not only could a Spaniard, an African, a Gaul be a Roman, they could be the Roman without being meaningfully treated as an outsider (of the above, only Elagalabus and Maximinus Thrax seem to have been seen as somehow un-Roman by many of their contemporaries, the former for his Syrian religious practices which seem to have offended Roman sensibilities and the latter – who came up through the army – because he never actually visited the city and deeply antagonized the Roman senate, a mistake which cost him his rule and his life).
Would a Roman, In Any Other Color…
All of which brings us back to the pop-cultural representation of the Romans. As we've seen, Romans, both in Italy and beyond it, covered a wide range of physical characteristics. We see fair-haired Romans and dark haired Romans; Romans with straight hair, curly hair and hair with tightly coiled curls; we see Romans with very light skin, very dark skin and every color in between. And this should be no surprise because Rome was – as we've seen – essentially poised on a crossroad of crossroads, at the center of the Great Mediterranean Highway.
Again, contrast that with the popular image of the Romans:
We can see here quite clearly a few problems. The first is of course that we see none of that range of coloration from all of this Roman artwork we've been looking at. These fellows aren't merely fair skinned, they're uniformly so, which gives the – by now we've seen, wholly incorrect – sense of Rome and its Senate as homogeneous institutions when they weren't. But of course the broader issue is that the Senate here is presented not merely as homogeneous, but as homogeneously white. Now this is the Senate of the mid-first century BC, so at this point we ought to expect them to all be Italians, but even by this point that would suggest a wider range of appearance than this (as we saw above with our Pompeian frescos). I've seen no indication anywhere that the Roman elite was notably whiter than the common Roman (although that sure does seem to be the impression you'd get from a lot of pop-culture depictions of Rome).
And there, at least, we come to the real problem with the implication of the Queen's Latin: visually and aurally it claims the Romans as 'white.' And sure, if you are Spanish or British or German or Italian or French and you want to claim Roman history as part of your heritage, go right ahead. I will stick to my guns and declare it is still wrong to say anyone in the Roman world was 'white' (or 'non-white') in the sense that term is used today, but if you want to say that Roman history is 'yours' because some of the Romans looked like you do, came from the part of the world you do (or your ancestors did), go right ahead. Were there Romans who looked 'white' in today's terminology? Absolutely.
But the uniformity of the Queen's Latin – and the fierce, reflexive outrage whenever it is challenged – works to deny other people, people who trace their roots to Tunisia or Algeria or Morocco or Egypt or Syria or Anatolia or a dozen other places the ability to say that Roman history is 'theirs.' The Queen's Latin declares (falsely) with the power of the visual medium that Rome was a 'white' man's empire, re-imagining Rome in the shape of the white European colonial empires of the early modern period (empires we may truly call white because they were empires in which power and full membership was marked out by the color of one's skin and the continent of one's ancestry in a way that was not true of Rome). Subtly but consistently, this way of depicting Rome tells those students located in the upper 4/6ths of that Fitzpatrick scale (which is, to be clear, most of the scale and most humans), "this isn't for you." But it is for them, if they want it. Rome is theirs, just as it is yours – just as it is mine, though there is an excellent chance that a student whose ancestors hailed from Algeria would have a far better claim to Rome as their history than I do! And I want them to come study it with me because we all – whether our ancestors lived in the Roman empire or not – our world is built atop the Roman's world, in some places literally and in some cases figuratively (though it is often the figurative foundations that are the more profound). And if the 'you' who is reading this is that student who wants to claim the Romans, regardless of where you come from – come study Rome with me, in whatever capacity you wish.
The impression that Rome was merely a 'white man's empire' isn't true to the evidence and it is both a detriment to our understanding of the past (including our ability to understand societies that valued different things than us, and so our ability to understand that we might choose to value different things too) and it is a poison for the study of the ancient world in general and Rome in particular, because we cannot afford to turn away even one eager student. It is long since time we abandoned the Queen's Latin's portrayal of the Roman world in favor of an accurate portrayal of the Roman world, with the helpful but secondary benefit that such a portrayal cannot help but be more welcoming.
Were there black and brown Romans? Yes, absolutely, without question. Were there African Romans? Western-Asian (or 'Middle Eastern,' if you prefer) Romans? Yes, absolutely, without question – our evidence on this point is indisputable. The evidence that Rome was a diverse society, by essentially any measure, is so preposterously strong – consisting of the unanimous testimony of every sort of evidence we have, including the endless complaining of Roman bigots! – that it is hard to view the continued popular resistance to this notion (scholarly resistance to this notion, from actual specialists rather than non-specialists straying out of their expertise to try to score political points, is effectively non-existent because there isn't much evidence to argue from) as anything but stubborn bigotry of its own sort. So let's say it once more, loudly and with feeling, for the folks in the back:
Rome was diverse. It was ethnically diverse. It was religiously diverse. It was linguistically diverse. It was culturally diverse. And, yes, though this mattered much less to the Romans than it seems to matter to us, it was color-diverse. And Rome was diverse from the very beginning; its strength was built on its diversity. Moreover, Rome was not merely diverse in the cheap way that all empires are diverse; the Romans did not merely keep multi-colored slaves (although, it is necessary to be honest about the uglier elements of Rome, the Romans did keep many different diverse peoples in cruel bondage), rather a great part – perhaps the defining part – of Rome's triumph was in successfully integrating those many diverse peoples into itself, in allowing them to become Roman (to again borrow a phrase from Greg Woolf) without demanding they lose their own local identities. This sort of diversity was the thing that set Rome apart from its competitors, predecessors and successors and fundamental to Rome's ability to leave such a strong legacy after its empire began to (very slowly) crumble.
Next week (assuming I can keep up my writing schedule), we'll finish up this series by asking if Roman diversity led to the fall of the empire, as some claim. Spoiler alert: it didn't – but heightened Roman intolerance might have.